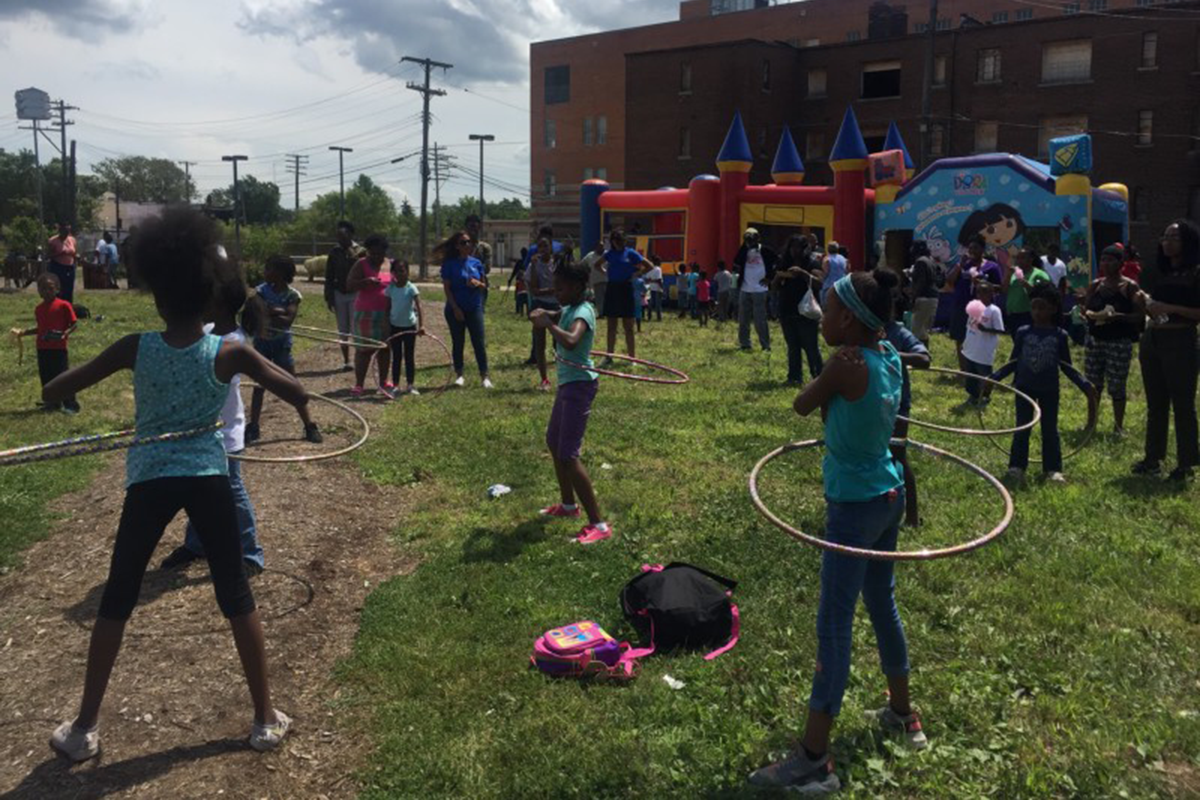 11 Jul

Meet the K880 Emerging City Champions 2017: Kayana, Tyrell and Rachel

It's been almost a year since these urban innovators have launched projects to make their cities more engaged, safe, healthy and fun. Find out who they are, what they've created and what they've learned.

by Emma Jones, Jonathan von Ofenheim
Kayana Sessoms
Detroit, Michigan
Meet the Champ: Kayana Sessoms is passionate about creating opportunities for youth in Detroit. She's the program director for Osborn Neighborhood Alliance, a community organization that advocates for resources to improve residents' quality of life. "The idea that I'm trying to build out is promoting community and cultural celebrations," says Sessoms.
Kayana's innovation story: Kayana thinks bringing "cultural cohesiveness and connectivity" to Detroit's Osborn neighbourhood — and any neighbourhood — starts with youth.
On August 4, 2017, Kayana's For the Love of Osborn community parade and festival engaged over 120 young people, highlighted neighbourhood vendors and businesses and was able to "activate space" around positive activities.
"That doesn't often happen in a neighbourhood like Osborn."
To develop the idea, Kayana asked local youth what they loved about Osborn and Detroit, and what they needed to thrive in their community. "It was great to hear those positives because the narrative has been so negative about Detroit neighbourhoods," says Kayana.
"Uplifting youth voice is important," she says, "and being able to recognize the great things that they do, the great things that they have done."
Kayana plans to make the parade a fixture of the community. Now she's connecting with Osborn schools to use the parade as a platform to create and promote school spirit.
Holding the parade annually, before the start of each school year, will be a way "to kind of lead the 12th graders in this leadership role in welcoming in those eighth graders into the school," she says.
Now that she has a working model in place, Kayana hopes other schools will adopt similar youth-focused parades across the city.
In Osborn, she says, "already I'm able to encourage [youth] to be resilient."
---
Tyrell Anderson
Gary, Indiana
Meet the Champ: Tyrell Anderson says the city of Gary, Indiana, has more to offer than meets the eye. He's the president and founder of Decay Devils, a group aiming to "lead the movement in restoring unoccupied historical buildings and landmarks around the world."
It's a bold vision, realized "by making repairs and blending the old relics with modern-day infrastructures."
Tyrell's innovation story: When he's not exploring old buildings, Tyrell is leading SuperSize Me, a series of workshops and events aimed at empowering citizens of Gary to learn more about and appreciate their city. By partnering with libraries and schools, SuperSize me brings together community members of all ages to share food, games and trivia.
The events, he says, are designed to bring back "this sense of pride, this sense of community, this sense of family" in Gary, a small city of approximately 76,000 people.
Each event has brought around 100 people, says Tyrell, and has been an opportunity to "kickstart a conversation" about the changes community members would like to see in their city.
Tyrell is determined to take their ideas and make a change, motivated to "turn them into something tangible down the line, that shows people that, 'hey, my voice is being heard and someone is out there trying to help us bring that to fruition.'"
They've already begun to turn ideas into reality. Soon, the group will be launching technology hubs in local libraries, a plan inspired by feedback that youth want more innovative after-school activities. They will also be launching free, accessible yoga and massage therapy classes.
Tyrell hopes SuperSize Me will demonstrate that this responsive, "bottom-up" approach to programming can be effective and meaningful. He wants to show citizens of Gary that they can have a big impact on the place they live.
"You can't sit back and expect someone to save you all the time," he says, of issues in Gary that can feel too big to tackle. "But in the meantime, you can do something to empower the community and bring us closer."
---
Rachel Klegon
Detroit, Michigan

Meet the Champ: Rachel Klegon grew up in metro Detroit. After trying out other cities, Rachel chose to live, collaborate and create in Detroit. She's the director of Green Living Science (GLS), a Detroit non-profit educating the public about recycling and the environment.
Rachel's innovation story: Rachel believes fun can pop-up everywhere. She's been working with a team of artists to create mobile installations that are functional, educational and exciting.
"The intention is to enhance a space that is already used by the public, and to be able to create elements that are more interactive," says Rachel.
Part one is a cigarette butt receptacle with a solar-powered neon sign. It'll be fun to look at, she says, but will also have two functional purposes: minimize litter and bring shade to the park.
"The solar panels above it are also going to have the dual purpose of being a shaded area," she says. "So this is going to attract people to hang around that area, and then also dispose of their cigarette butts correctly."
Part two of the project is in collaboration with an artist who creates inflatable art. "He's going to create this large inflatable dome that we can use for different events where we're projecting images on it. People can walk in it, and it can be kind of a shaded and protected area," says Rachel. "It will be an interactive piece that can change depending on what we want to do with it through projection."
The installation will launch at ButtCon in July. This time, there will be two inflatable domes side-by-side, shaped like — you guessed it — a butt (of the human variety, not the cigarette variety).
"It's a celebration of people's butts," she says. "Kind of a fun silly thing to do to kind of bring people together and remind them not to take themselves so seriously sometimes."
While Rachel says the projects could serve a wide range of purposes, each will "[showcase] artists, engage the community and help our environment."