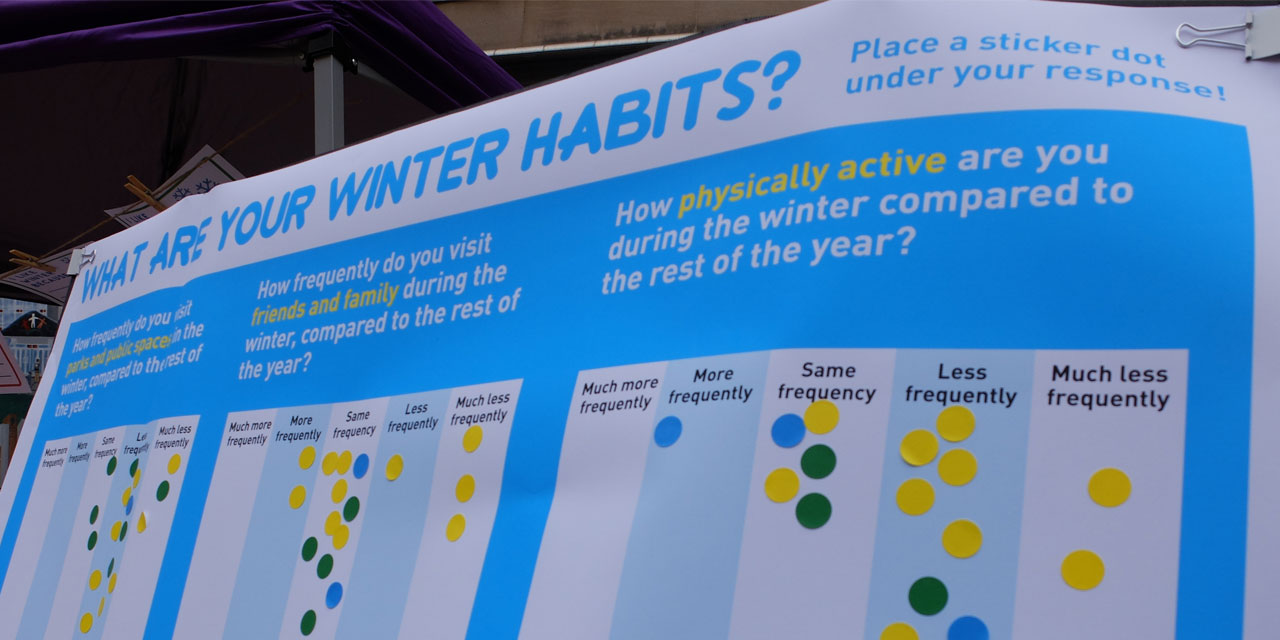 31 Oct

Competition Launched for Wintermission – a Project That Aims to Improve Public Life in Winter in Three U.S Cities

Press release published by 8 80 Cities

TORONTO, ON, November 1st, 2018 – Is your city doing all it can to embrace the colder season? 8 80 Cities, a non-profit organization dedicated to improving quality of life in cities, thinks not. But don't just take it from them, research shows people are less physically active and more susceptible to social isolation in winter. That is why, with the support of the Robert Wood Johnson Foundation Global Ideas Fund at CAF America, they have launched their two-year Wintermission project.

The goal of the project is to get more people outside enjoying their public spaces in the coldest, darkest months of the year.

"So many cities effectively shut down their parks and public spaces in the winter time. Cities have the capacity to lead the charge in providing viable options for people to enjoy public spaces and public life during the time of year when people feel least inspired to do so. Streets, roads, sidewalks, parks, plazas, libraries, school grounds, and community centers can be better leveraged to reduce social isolation and enhance social and physical activity during the winter season," says Amanda O'Rourke, Executive Director of 8 80 Cities.

"We now know that social isolation is as bad for your health as smoking and obesity, and unless you participate in winter sports or enjoy winter activities, these dark, cold months of the year can make people feel lonely and disconnected," said Sharon Roerty, senior program officer at the Robert Wood Johnson Foundation. "Other countries do a good job at supporting public life during winter months, so it is important that we learn from them to see what's possible here in the US."

Wintermission starts with a competition for city teams dedicated to improving public life in winter.  The winning cities will become Winter City Vanguards and begin leading public space transformations to help residents embrace their unique winter climate.

The Winter City Vanguard teams will receive:
Technical assistance from 8 80 Cities to engage diverse stakeholders in conversations about public life in winter, implement winter city pilot projects in public spaces and develop a unique Winter City Strategy to guide future investments and policy decisions related to improving public life and addressing social isolation in winter.
All-expenses-paid trip for three team members to attend the Winter Cities Shake Up conference in Saskatoon, Saskatchewan on January 23-26, 2019.
Ongoing capacity-building and mentorship opportunities from global leaders in winter city building (from Canada, U.S, Sweden and Denmark).
Up to $15,000 USD to cover material expenses for implementing winter city pilot projects.
The deadline to apply is Thursday, November 29, 2018, at 11:59 p.m. ET.  Visit www.wintermission.org for more information and to apply.
Wintermission project partners include the Children & Nature Network, National League of Cities Institute for Youth, Education, and Families, Winter Cities Institute, City of Edmonton and research and public sector advisors from Canada, Sweden, and Denmark. The project is funded by the Robert Wood Johnson Foundation Global Ideas Fund at CAF America.
About 8 80 Cities
8 80 Cities is a non-profit organization based in Toronto, Canada. Our mission is to improve the quality of life for people living in cities no matter their age, ability, or socioeconomic status. Over the last 11 years, we have worked in over 300 cities on 5 continents. Our approach is to bring people together to transform mobility and public space to create more vibrant, healthy, and equitable cities. We are guided by the simple but powerful idea that if you build a city that is great for an 8-year-old and an 80-year-old, then you will build a successful city for everyone. We achieve our mission through grant projects and our innovative services.
Contact:
Ryan O'Connor, Director of Programs, 8 80 Cities, 416-591-7404 ext 2 roconnor@880cities.org