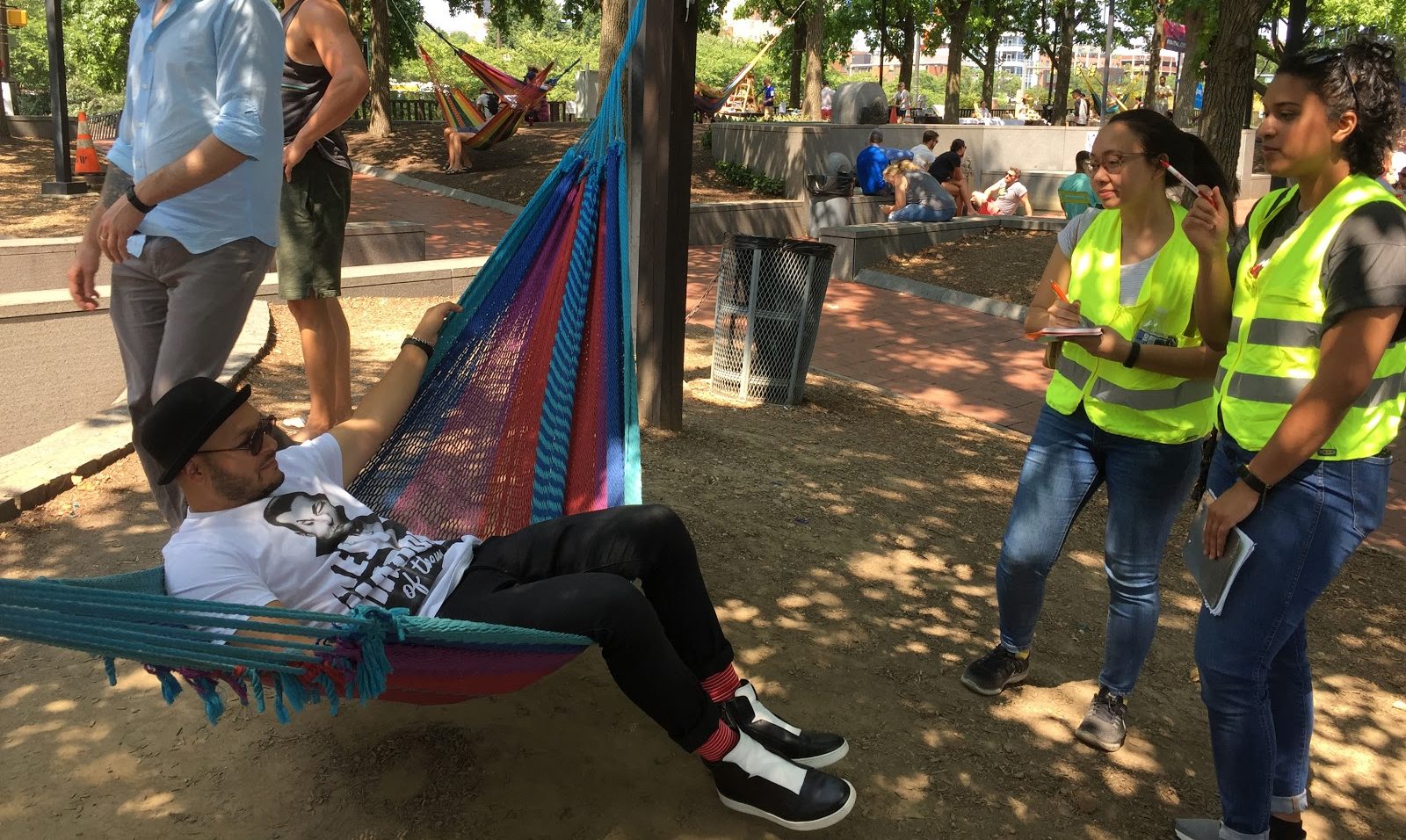 11 Dec

ECC 2018 Catch Up: Philadelphia

Emerging City Champions (ECC) is a fellowship program led by 8 80 Cities. ECC provides young civic innovators with leadership training and $5,000 in seed funding to launch transformative projects to enhance public space, urban mobility or civic engagement in their city. ECC is supported by the John S. and James L. Knight Foundation. Visit emergingcitychampions.org for more, and look for the next application call-out in spring 2020.

This week, we're catching up with the ECC 2018 cohort to learn about what they accomplished during their 2018-2019 fellowship.
Philadelphia, Pennsylvania

Over the past decade,
Dena Ferrara Driscoll
has held leadership and fundraising positions at several nonprofits in Philadelphia including Smith Playground, Elfreth's Alley, and Bartram's Garden, giving her a unique perspective on how our public spaces are often historic sites that have seen reinvention by communities over the generations for modern uses. Her work in championing a better city also aligns with her commitment to alternative transportation and urban parenting. She founded Kidical Mass PHL, was a founding member of Open Streets PHL, and is Co-Chair 5th Square. Dena holds a M.A. in Museum Education from University of the Arts and a B.A. in History from LaSalle University.
Dena's ECC project, 5th Square Action Tank Project Series, explores persistent challenges Philadelphia faces, and builds relationships and coalitions with diverse allies to work towards a more equitable and resilient city. The series brought together over 245 participants to incubate ideas, talk through problems, and emerge as advocates for issues they care about. The series focused on research, public engagement, education, and advocacy around issues like safer streets for walking and biking, improving public transportation, and changing the conversation on planning and housing. It popped up at different locations, in different public spaces and store fronts. It also spilled out literally on the street with some tactical urbanism: painting a faded crosswalk (see photo). 5th Square Action Tank Project Series is now in the process of registering as a non-profit.
Kyree Holmes
is a proud native Philadelphian who has lived all over the city. Originally on track to pursue a career in marketing, she serendipitously discovered the user experience field and fell in love with it. She is currently a User Experience Researcher in the tech industry, leading research efforts to enhance products and services and inform the design of future projects. Now wanting to introduce others to the user experience field, she founded Onyx Valley, a community building organization designed to identify and prepare diverse talent for careers in the tech field.
For her ECC fellowship, Kyree facilitated Onyx Valley Studios (OVS), a student-led design consultancy, as it was commissioned by the Delaware River Waterfront Company to help improve the user experience at Spruce Street Harbor Park. The students reinterpreted this challenge as a way to get park goers, who normally only come to lounge in the hammocks, to start exploring the entire waterfront. After interviewing the park's staff and conducting field research with park users (see header image), the students produced three solutions to facilitate traffic through the waterfront, which included a wearable pin reward system, a signage campaign, and a social media scavenger hunt. This first OVS effort helped Kyree refine how the program runs and develop a case study and materials to use to prospect for future OVS projects. OVS was able to secure and complete two additional projects with the City of Philadelphia as a result. The next steps for Onyx Valley are to formalize the OVS program and develop a structure and curriculum to ensure success for all students.
A Montgomery, Alabama native,
Hanae Victoria Mason
earned a Bachelor's degree in journalism and communications at Hampton University and an MPA at the University of Pennsylvania's Fels Institute of Government. After working in different capacities in the communications field, she was drawn to a new professional path: community advocacy and development. She started working at Mt. Airy USA in 2016 as a graduate fellow and then spearheaded the organization's public life and placemaking initiatives as its Community Program Manager.
For Hanae's ECC project, she saw the need for public spaces that connect people different from one another, fostering in them a new sense of neighborliness needed in today's divided society. Supported by Mt. Airy USA, Hanae's goal was to transform Lovett Park into such a space and to use it as a pilot to increase both community inclusion (attracting new and diverse audiences) and community cohesion (strengthening community bonds) in the Mt. Airy neighborhood. Over the course of her fellowship, she held quarterly public meetings for community collaboration, fine-tuned the physical space with playful and inviting furnishing, created an inviting mix of organic and scheduled activities and events from music nights to outdoor movies to beer gardens, developed a youth ambassador program, and analyzed data to understand what worked and what did not.
Gabriela Sanchez
founded Power Street Theatre with Erlina Ortiz in 2012, and it has grown into a collective of fierce multicultural and multidisciplinary artists who are dedicated to connecting communities through the power of story. They are committed to making by theater accessible to communities in North Philadelphia, and creating and producing new inspiring stories with innovative voices. In the past seven years, Power Street has produced seven full productions in addition to developing an educational program called Land & Body, which provides adults with free theater classes. A Philadelphia native, Gabriela received a Bachelor of Arts in Theater from Temple University, and worked with two historical Latinx organizations in North Philadelphia as the former Director of Education at Norris Square Neighborhood Project and the Cultural Enrichment and Facility Manager at Taller Puertorriqueno. She also worked for the Department of Recreation with Conflict Resolution Theater for six years.
For her ECC project, Gabriela and Power Street Theatre produced Theatre Al Fresco, an outdoor performance series in the Las Parcelas community garden in partnership with Norris Square Neighborhood Project. The series had three open mic events: Student Showcase, which featured a performance from an experimental theater class led by Gabriela; Power Street's first Comedy Cabaret; and Power Slam, which celebrated the power of womxn of color. The series created culturally-resonating performances that honored intersectionalities, fostered intergenerational dialogue, and amplified multi-disciplinary experiences in public space.
Catch up on other ECC 2018 projects all week on our Stories & Insights page and visit emergingcitychampions.org for more information. The call-out for next year's application will go live in spring 2020.