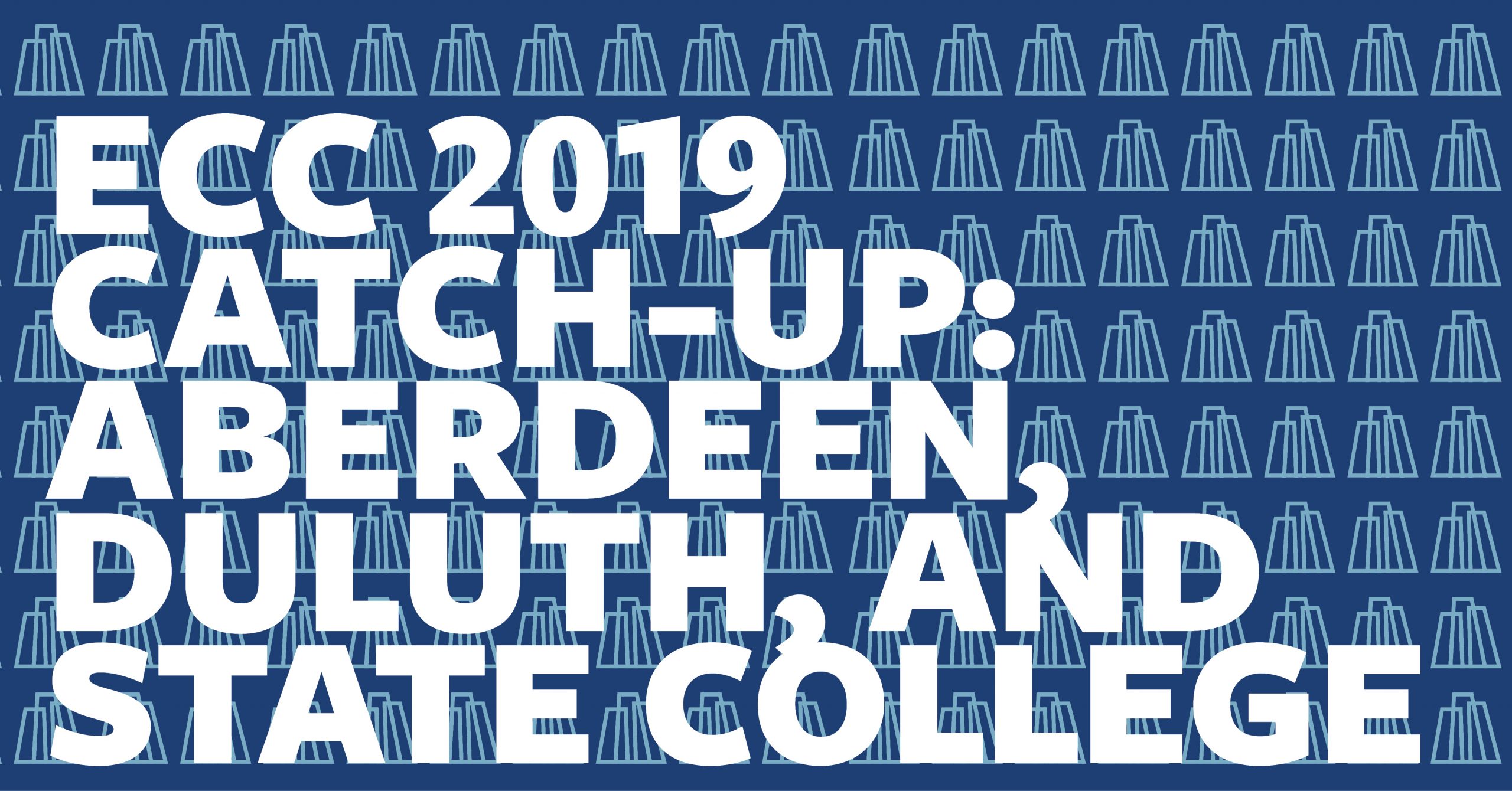 01 Sep

ECC 2019 Catch-Up: Aberdeen, Duluth and State College

Emerging City Champions (ECC) is a fellowship program led by 8 80 Cities. ECC provides young civic innovators with leadership training and $5,000 in seed funding to launch transformative projects to enhance public space, urban mobility or civic engagement in their city. ECC is supported by the John S. and James L. Knight Foundation. Visit emergingcitychampions.org for more.

We just launched ECC 2020, and now we're spending this week catching up with the ECC 2019 cohort to learn about what they accomplished during their 2019-2020 fellowship amidst the COVID-19 pandemic and mass movements for racial justice.
Aberdeen, South Dakota
Spencer Sommers is an Architect at CO-OP Architecture in Aberdeen, SD. In his spare time, he volunteers on several downtown boards and has previously spent time teaching and participating in design reviews at the South Dakota State University Department of Architecture.
Spencer's project, Signs of the Times, identifies, recreates, and restores Ghost Signs (the faded advertisements painted on the facade of many downtown buildings). Doing this preserves the history of Aberdeen while bringing color and vibrancy downtown. With the help of local artists and community volunteers, 'Signs of the Times' has restored six paintings, with another three planned for late this summer. Due to COVID-19, the artists' 2020 summer schedule has been pushed back, but the project is still planned to continue over the next few years with various additional paintings. There are currently 5-10 additional paintings on the list to be restored.
One of the ghost sign paintings that was planned for restoration this summer was unfortunately demolished after a fire that destroyed several buildings downtown. In a strange turn of circumstance, the fire opened up space for a public square, which is currently under construction for the spring of 2021, and which Spencer is fortunate to be participating in. Spencer says that the financial help and practical knowledge granted by the ECC program helped him continue to document and recreate these paintings in his spare time while coordinating between all parties involved.

Duluth, Minnesota
Moira Villiard is a dynamic visual artist, Fond du Lac Band of Ojibwe direct descendent, and current Duluth-based community organizer; she's proficient in a wide range of artistic genres, including portraiture, illustration, graphic and digital design and as a muralist. She's worked as a curator and passionate arts educator concentrating her efforts around issues of equity and justice.
Moira's ECC Project was the multimedia storytelling experience, A Goody Night, originally founded over 7 years ago by co-collaborator Daniel Oyinloye. The show utilizes mediums of film, visual art, and musical performance to immerse audiences in both the creative work and personal stories of participating audiences, and includes several points of experience where audience members are encouraged to participate in the making of these art forms alongside "featured" diverse artists from the community.
During 2019, Moira used her fellowship to host two episodes of Goody Night in Duluth. One was dedicated to womxn performers and the other was used to bring back over a dozen previous performers for a reunion around the theme of "legacy", where community members were able to participate in a conversation around the future of the show.
One of the missions of Goody Night is also to bring a culture of sobriety to a city that relies heavily on brewery culture, and both nights were a rare opportunity for Duluthians to experience evening art, entertainment and storytelling in an environment that put connection at the forefront of the experience. It also highlights artists of color, encouraging connection during, before, and after the show itself ends through curated experiences and individual documentary films. The ECC fellowship made it possible for the first time to pay all of the artists and volunteers who have made this show possible in the last few years, and the 2019 shows were also featured on an episode of WDSE / PBS Making It: Up North.
State College, Pennsylvania
J. Mundinger is a dancer, DJ, and lighting designer trapped in the final stages of his color science PhD.  As artistic director for Centre Social Dance (CSD), he facilitates weekly Fusion dance events.  J had hoped to now be settling into his dream job as a Penn State professor and stepping down into an advisory role for CSD.  Now out of work, J has been furiously adapting his psychophysics skill set to rapidly prototype new social experiences and a new style of digital dance.  He stands determined to hold the torch for the community that has given him everything, dreaming of the day that dance will yet again rise like a phoenix.
Centre Social Dance (CSD) was originally a local Fusion dance community.  Powered by the ECC grant, CSD moved into a beautiful new venue at 3 Dots Downtown.  CSD grew quickly in its new venue, forming a 9-member board, gaining 501(c)(3) status, and laying foundations that supported all forms of social dance in State College.  Recognizing the status of social dance as a super-vector for COVID-19, CSD shut down their in-person dances shortly before 3 Dots was closed indefinitely.
Forced to reimagine Fusion, and unbound by geography, Virtual CSD quickly transformed into a national presence.  A new partnered dance form based on a visual-only connection is now developing with the aid of a deaf dancer teaching American Sign Language.  New organizing strategies culminated in the publication of an organizing guide that has seen adoption by Fusion events nationwide.  Virtual CSD has now pivoted from prototyping to training, becoming the premier location for the development of new virtual Fusion organizers, DJs and teachers.  Though many communities remain on the brink of collapse, a tiny point of light may now be seen in the distance amidst the inky black.
Catch up on other ECC 2019 projects all week on our Stories & Insights page and learn about the new ECC 2020 cohort at emergingcitychampions.org/meet-champions.