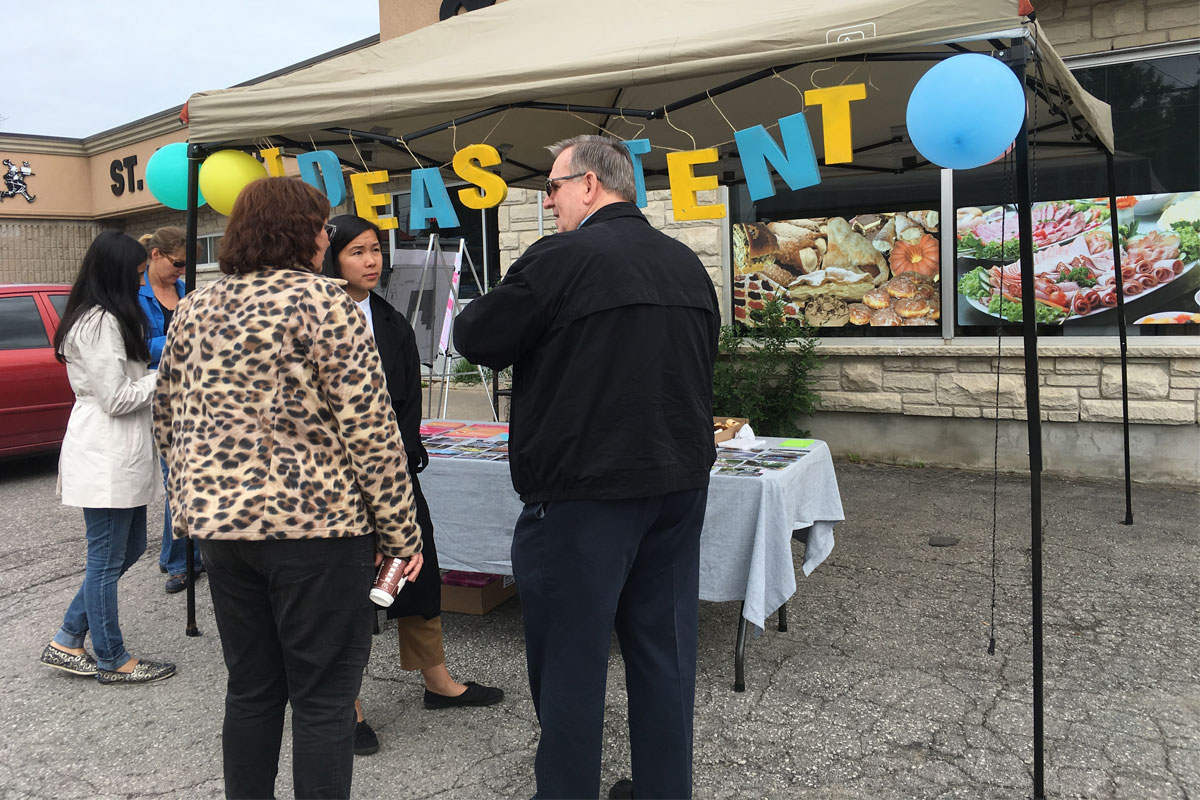 12 Jul

Exploring the value of local voices to drive change: The Future of Facer Street

By Zainab Abbasi

Local businesses have a powerful role in driving neighbourhood change. During my first community engagement session since joining 880 Cities, I witnessed firsthand the bottom-up approach of the enthusiastic local business owners in a quiet St. Catharines neighbourhood to revitalize their street. Last year, a few passionate local business owners organized the first-ever Facer European Festival, to celebrate the heritage of the neighbourhood. Much to their surprise, the event drew a crowd of 8,000 people! Facer Street was jam-packed with people face painting, hanging out, listening to performances and witnessing history in the making as the record was set for the world's longest calzone. Yes, you read that right—a calzone!! The festival organizers picked up on this momentum and wanted to bring others on board to transform Facer Street into a year-round destination. They approached the City of St. Catharines about it and the Future of Facer Street project was born.

The lure of baked goods on a sunny Saturday morning
We set up a sidewalk salon outside St. Joseph's Bakery, a ritual sojourn for many when one simply can't be bothered to get their hands messy in the kitchen on a sunny Saturday morning. We took it to the streets to engage with people where they already were—and the bakery was indeed the place to be. We heard from them about what they like about Facer Street, what they don't, and some of the top improvements they'd like to see.

What Google Street view can't tell you
We led a walking tour of Facer Street and conducted an audit along the way. During the walk, the conversations with the community members unraveled so much about the neighbourhood. "This building makes me feel X", "They really need to change this". They told us about businesses that have long left the neighbourhood yet their presence lingers in the faded signs on the vacant storefronts. These bits and pieces of the neighbourhood's history are critical to informing the Future of Facer Street –things that Google Street view can't tell you.

We heard that the new businesses were struggling to stay open because they don't have the same strong clientele as old and established businesses in Facer. I suspected there was more to this story. Perhaps these new businesses needed to better gauge the demand in the neighbourhood and fill in the service gaps. We also heard from our conversations that businesses could be more physically welcoming to community members through seating, patios, shade and more signage. They need to 'spill out onto the streets'. This would also enhance the pedestrian experience along Facer Street, which currently is only used as an area to pass through.

What will Facer Street be known for in 2025?
After getting into the nooks and crannies of Facer Street's physical character, we took a step back to bring our ideas together at the workshop. We led a community visioning session where everyone wrote down what they would like Facer Street to be known for in 2025. From there we convened to share our overlapping ideas to create a community vision for Facer Street. (see below)
"Facer Street will be a unique cultural
district with beautiful, walkable streets and thriving small businesses."
The strong sense of community shared within Facer Street was incredible because both long-time and new residents were equally invested in the community. They shared the same vision to improve the place where they live and were more than willing to come together to make that happen. All in all, it was a successful string of events and the voice of the local businesses and community shone through.
8 80 Cities' Future of Facer report was recently approved at St. Catherine's city council. Various city departments are now tasked with putting the recommendations into action, to welcome new life and businesses to the Facer neighbourhood.
Click here to download the Future of Facer report.