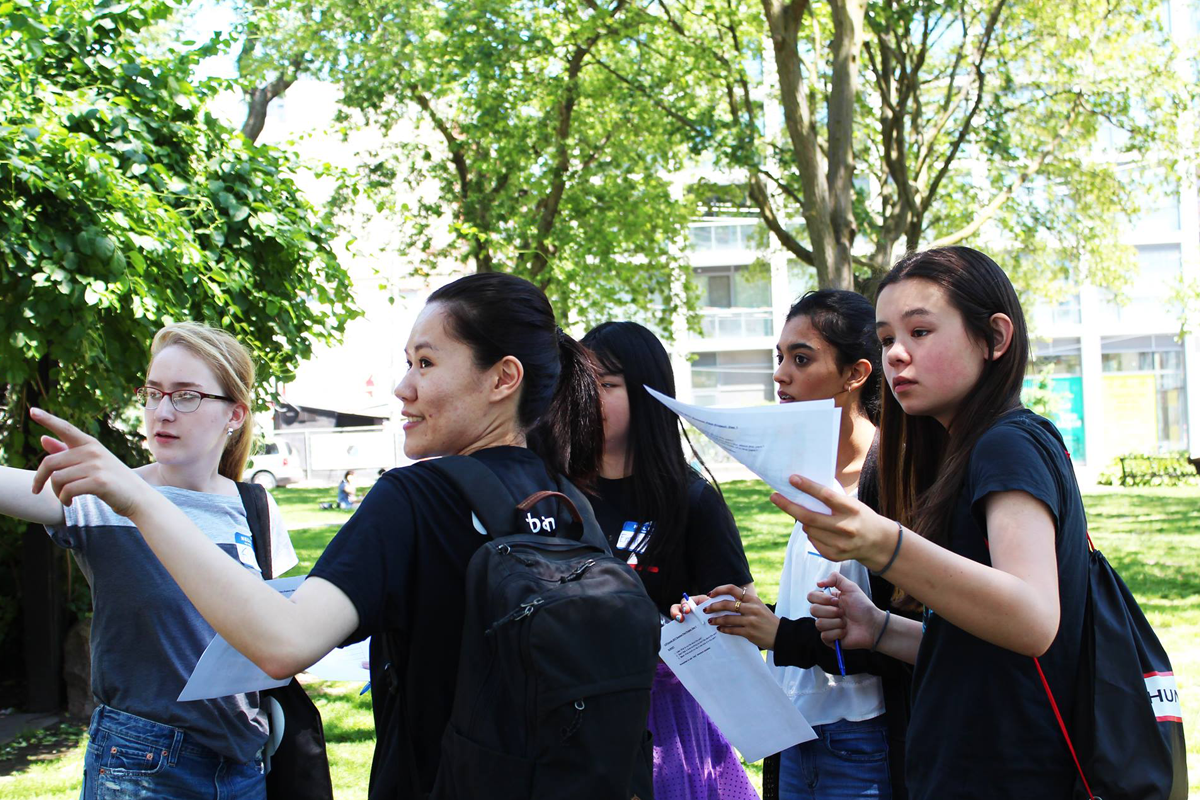 06 Sep

High School Students Are Ready to Take Up City Building

It's back to school season again! Students across the country are heading back to their classrooms and schoolyards this week, getting back to their usual routine after a summer that is always deemed too short. But, there is one thing that is new in a few high schools in Toronto this year: students are tackling public space challenges in their own neighbourhoods.

In fact, some of them already started over the summer.

Students from across the GTA have been part of the 1UPToronto Summer Pilot Project in the last two months, where they have spent six Saturdays together at the 8 80 Cities office learning about public spaces and urban design. They went to a park called St. Andrew's Playground, surveying users, and studying the usage of the park. (Fun fact: There once stood one of the first three indoor markets of the city at this urban park on Adelaide west of Spadina). The students found that while there were a dog park and a children's playground, there were few amenities for the dog owners themselves or things to do for teenagers and adults.
After many rounds of brainstorming and prototyping, the group designed a doggie bag dispenser for any forgetful dog walkers, and a tree swing big enough for those who may feel they are just a bit too old for the children's playground.
With donated materials and tools, and a woodworking workshop under their belts, the students brought these ideas to life. On August 19th, the group assembled the installations and wrapped up the program with a celebratory picnic at the park. They believed that these temporary installations would inject more fun and playfulness into our city's public spaces, and demonstrate their capability as young city builders.
This fall, six schools from Brampton, Mississauga, North York, and Markham will be starting their own 1UPToronto School Chapters. Students will be designing and building projects that will address a challenge in a local public space, whether it be an overcrowded park, a dangerous pedestrian crossing, or an underused bus stop. Thinking at a local scale is certainly something new and different to these students, who are used to joining school clubs that focus on global issues such as climate change, poverty, and hunger. The challenges they address with 1UPToronto will hit much closer to home, as these spaces are often visible to them every day.
The school chapters will be entirely youth-led, with support and mentorship from Urban Minds and 8 80 Cities. They have until the end of the school year to create a working prototype of their project, and they will also present their ideas at the next 1UPToronto Youth Conference in March 2018.
All this to show that if you give youth a voice and a platform to actively partake in city-building, they will show up and impress you.
Learn more about 1UPToronto at www.urbanminds.co.