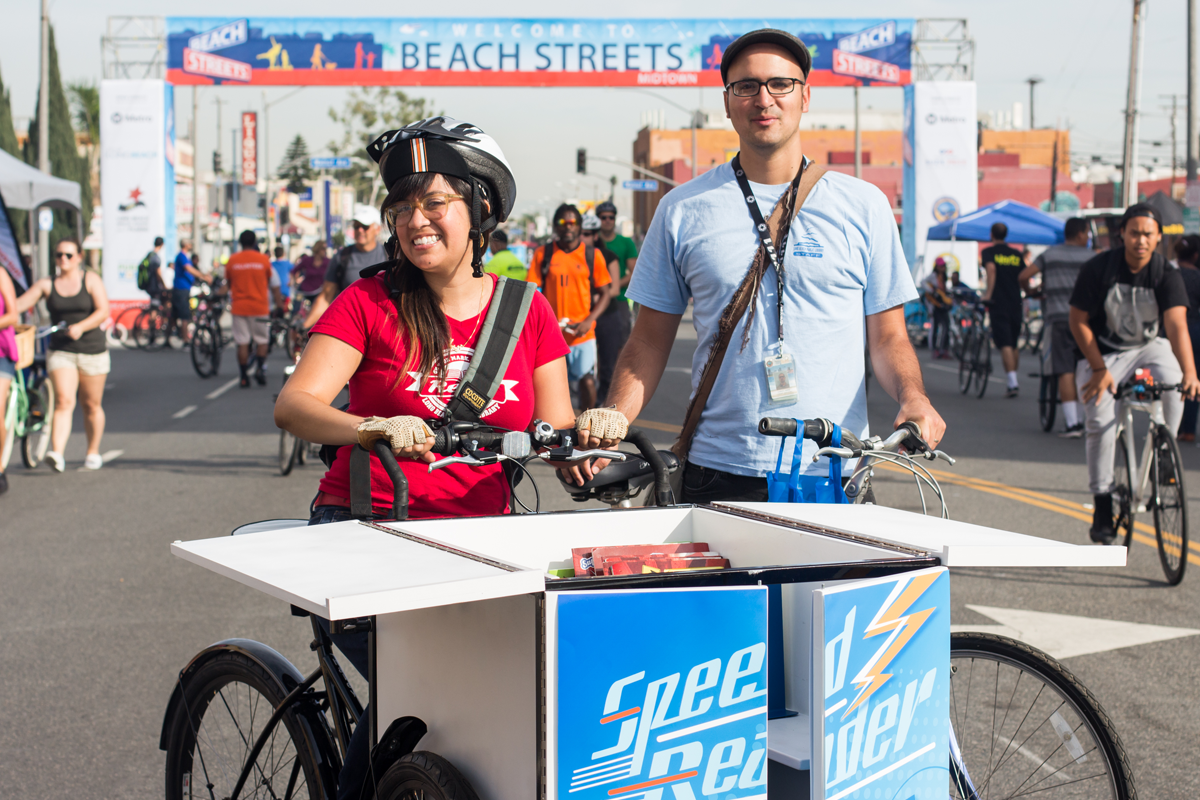 17 Jul

Meet Emerging City Champions: Ziba and Amanda

Emerging City Champions Ziba Zehdar and Amanda Zullo have also been busy after launching projects to make their cities more engaged, happy and beautiful. These young urban innovators have accomplished and learned a lot. Get to know them and their amazing projects.

by Emma Jones, Jonathan von Ofenheim

Ziba Zehdar
Long Beach, California

Meet the champ:
Ziba Zehdar is the Community Services Department Librarian at the Main Library of the Long Beach Public Library system. She's also a co-organizer of Long Beach Zine Fest and curates the LBPL Zine Library.

How she's innovating:
Riding the So-Cal mobile library wave, set in motion by the Los Angeles Public Library's Book Bike project, Zehdar and her team bring their own fresh take with their Speed Reader. It's a library on wheels with a simple purpose: get the public to read and share books more often.

Zehdar's Speed Reader got rolling at Long Beach's open streets festival, Beach Streets. With streets and sidewalks as the project's platform, the Speed Reader is meant to reach the entire community: everyone from mothers with young kids to people experiencing homelessness.

Zehdar hopes to encourage locals to use all manner of library resources. After all, libraries "contain more than just books!" The Speed Reader is equipped with books and zines. It's even featured a pop-up "zine" library, and a DIY zine workshop, where participants were invited to create a page for a community zine.

The book bike is great for library publicity, says Zehdar, adding that Long Beach's mayor even tweeted about the bike.

"He said he's really proud of the library and the mobile library," she says. "When he really acknowledged us, that's when I felt, Okay, this is all exactly how I wanted it to be."

But more important, says Zehdar, it's carved out a new way to get out and share ideas with the community that are personal, rather than corporate or commercial. After a year of learning, Zehdar has become a book bike leader: "Now that it's been a year, a few other library systems have contacted us," she says. "It's kind of nice to be able to continue the chain."
---
Amanda Zullo
Charlotte, North Carolina
Meet the champ:
Amanda Zullo is an architect, designer, community engager and food enthusiast. Zullo is a regular volunteer, from educating youth to sitting on the board for Sustain Charlotte's Community Corps. Her activism bent has led her to launch own small business, where she remains both a social entrepreneur and community leader.
How she's innovating:
Zullo's passion project, Pop Up Produce, aims to bring healthy living practices to people of all socioeconomic backgrounds. It works on two levels: to educate people on the benefits of fresh food, but also to hold workshops and events, teaching people how to grow their own food.
Pop Up Produce's main product, the Fresh Start Kit, is an all-in-one package containing seeds, compost and containers, giving people the tools to grow their own pop-up gardens.
The project's ethic is reflected in its business model: For every kit purchased, Pop Up Produce donates kit resources to families who live in "food deserts" — areas with limited access to fresh produce.
Zullo launched the project in the fall of 2016, amid a tense political climate that has exacerbated racial tensions in her town of Charlotte, NC — and nationwide. "The initial mission was to teach people to buy their own food, but that didn't pay homage to how the food was being grown, how we were able to truly bring the community together," says Zullo.
"There was a lot of racial divide," says Zullo. "I felt like Pop Up was a form of beacon."
"It was very humbling to realize how one small idea could have such an impact on the community in such a short amount of time," she says.