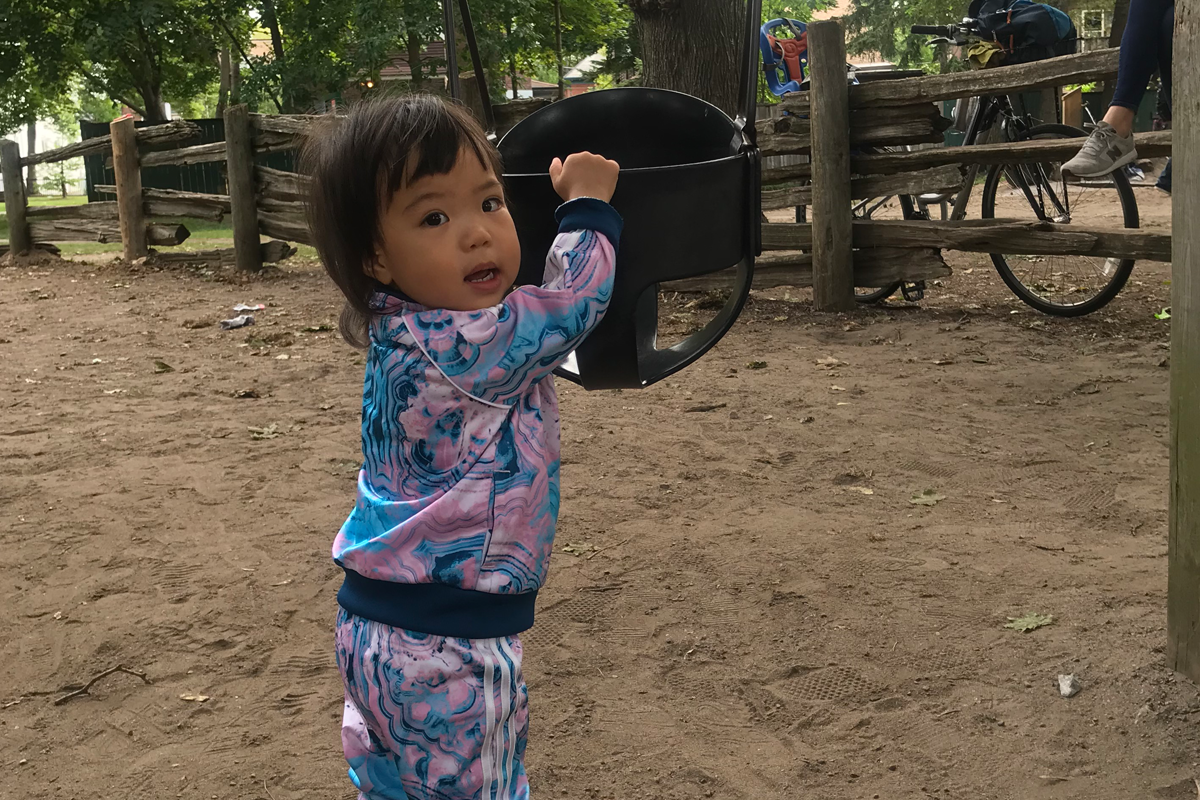 22 Oct

Parenthood And My Whole New Relationship With Parks

For me and many others, becoming a parent and full-time caregiver marked a stark shift in how I see and move through the world. Layer on a pandemic, and we have ourselves a whole new altered reality.

Before having my daughter a year and a half ago, I anticipated the unique challenges of maneuvering the city with a young child. I also anticipated some of the joys of raising a baby in the city, such as going on lots of walks and spending more time in parks. Working at 8 80 Cities, it is part of my job to sing the praises of parks as being essential to healthier, happier cities for people of all ages. Despite knowing all this, it surprised me how much I came to rely on Toronto's parks as a new parent. I recently told a friend, "I always liked parks, but now I LOVVVE and NEEEED parks."
I now depend on parks for a whole host of needs other than recreation. When I'm out running errands or going on a walk with my daughter, I always keep a mental note of where the closest park or parkette is on our route. Parks became sanctuaries where we could accommodate almost all our daily needs, including changing diapers, accessing water, using the bathroom, nursing, eating meals, and naps. This became even more true once the pandemic hit. It was no longer as safe, comfortable, nor even possible to use indoor spaces like libraries, community centers, or coffee shops for these purposes.
This past summer, when it was scorching in Toronto for weeks on end, I noticed myself gravitating to parks with the densest tree canopy. The temperature would feel 10 degrees cooler, which is especially important for babies, as they are less able to regulate their internal temperatures and are more sensitive to extreme weather.
Parks are an escape valve for heightened toddler emotions. If I am walking somewhere and my daughter is on the verge of or in the middle of a tantrum, I like to veer off to the closest park where it is much more comfortable to compose ourselves and help her calm down. It becomes a much less stressful situation for the parent or caregiver as opposed to dealing with a meltdown in the middle of a sidewalk with people and car traffic rushing by.
Centering women and caregivers in park design and programming
While parks cater to a wide user group, there are gendered ways they are experienced and used. Women still make up the majority of both paid and unpaid primary caregivers of young children. If we were to plan parks with this specific group's input and participation, our cities would perhaps prioritize the following:
Parks close to home: Given our busy schedules juggling work, household chores, and other errands, parents and caregivers will more often opt for nearby, local parks over destination parks, no matter how nice or fancy the facilities are. I'm fortunate to live in a walkable neighbourhood with multiple parks and green spaces nearby. Still, in many areas further from Toronto's downtown core, where greater proportions of racialized and low-income families live, this isn't typically the case. A priority for the city should be to invest resources in parks programming, maintenance, and new parks in underserved neighbourhoods.
Parks linked to commercial corridors: When I was on parental leave, running errands became central to my day. It makes me think that if cities were designed with primary caregivers (who happen to be predominantly women) in mind, there would be a much greater emphasis on linking commercial corridors with park facilities. There is a rhythm that comes with taking care of a small, fussy child. It means incorporating breaks and pauses in your day to deal with their physical and emotional needs. Parks just so happen to serve those purposes very well.
Gendered safety lens: Making parks more comfortable and accessible to caregivers and children means putting a spotlight on both real and perceived safety in parks. Our gender identity and other intersecting identities, such as race, culture, ability, age, and income-level, impact how we perceive and experience safety in a public park setting. Decisions about park infrastructure design (such as lighting, access points, connections, bathrooms) and park management (such as security, bylaw enforcement, and overall programming) can help or hinder these groups' access to parks.
The good news is, almost exactly a year ago, Toronto's city council voted unanimously to create a gender equity strategy and gender equality office so that all city departments will have the tools to employ an intersectional gender-based lens to the planning and delivery of city programs and services, parks included.