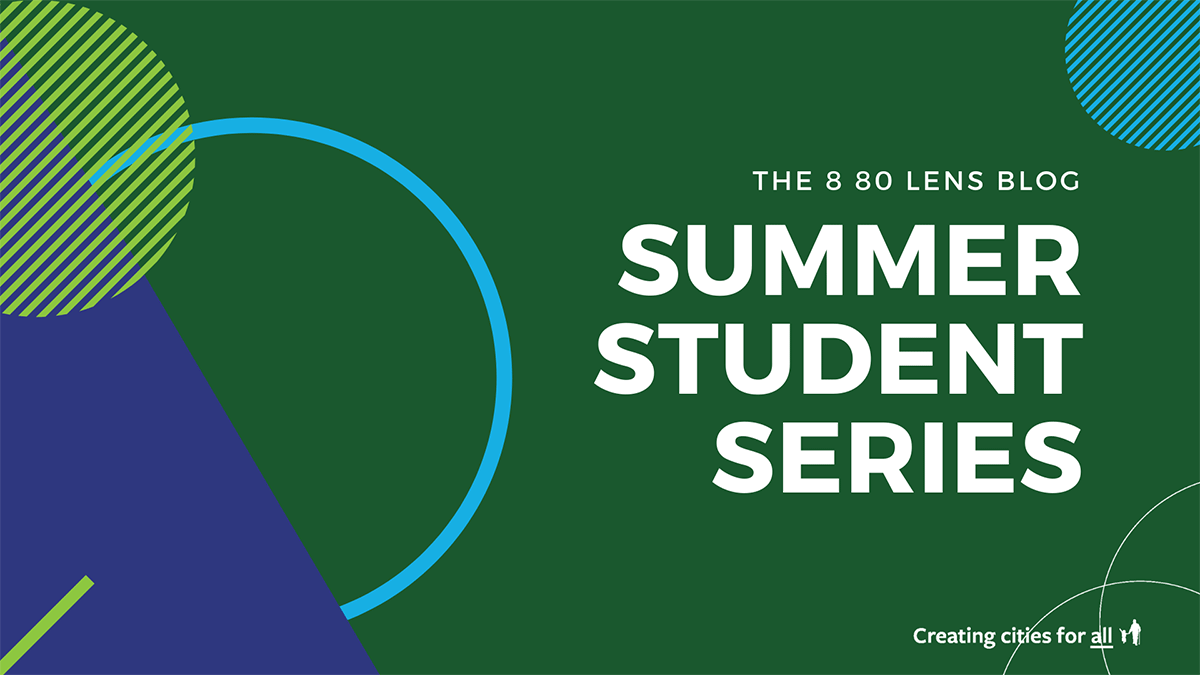 25 Jun

8 80 Summer Students Series: It's Pride and Bike Month! 

Written By: Katelyn Ling & Alexandra Simpson, Master of Science in Planning students from the University of Toronto, Class of 2022.  

June is Pride and Bike Month! It is a time to get out on your bikes and embrace seeing the rainbow around the city. The pandemic has made the festivities look a bit different from the years prior, but we've discovered so many other creative ways to celebrate these two important occasions in June.  

Although these events are typically recognized separately, their origins are rooted in similar social movements. Drawing attention to their unique yet overlapping histories helps us understand how they intersect and their roles as figurative, and literal vehicles for change in reclaiming public space for all.  


Bike Month
 Every year over the month of June, Bike Month takes place across the GTA and Greater Golden Horseshoe, with 12 municipalities currently taking part in the festivities. Bike Month as we know it today evolved out of Bike to Work Day in 1989 and has grown into a celebration of cycling.  Bike Month is not intended only for seasoned cyclists or those who already commute by bike, but also for people who are interested in discovering the joy of riding on a bike. In Toronto, the event is organized by the City of Toronto and Cycle Toronto to encourage more people to get out biking on streets that are predominantly dominated by the car. 
Bike Month typically operates as a series of events over the course of the month, but this year it looks a little different, with the addition of virtual and contact-free activities. The month kicked off with Ride a Bike Day on May 31st, followed by Bike to School Day on June 1st. Over the course of the month, participants of these bike events are encouraged to log their trips and kilometres travelled on the Bike Month website. This year's goal is to log 7,200 km of rides! 
During June, several webinars and workshops are held on topics ranging from bike safety and theft prevention to family biking, route planning, and all-weather biking. Group and community rides are held across the region and Cycle Toronto is hosting pop-up bike safety stations across the city to provide people with safety checks and minor repairs. Researchers across the country will also be observing cyclists and collecting data that will inform efforts to make cycling a climate solution. 
Whether you're an avid cyclist or not, Bike Month has something for you!
Pride Month 
Pride is an important and vibrant event that is celebrated around the world. Each year during the month of June, we commemorate and celebrate the 2SLGBTQ+ activism and culture that has helped create safe communities and spaces for people to be who they are. When reflecting on the history of Pride, the Stonewall Riots of 1969 in New York City is recognized as a catalyst for the gay rights movement in the United States and around the world. However, Toronto has its own unique history. From demonstrations in the 1970s and collisions with government and police during the 1981 Toronto Bathhouse Raids to the rainbow celebration we have today, Pride is an accumulation of all of it.  
We have been in a pandemic for over a year, and we have seen the tremendous strain on our communities and the social connections we have fostered. But despite these challenges, this year has also shown us what resiliency looks like. On June 1st, a virtual flag-raising ceremony took place in Toronto with the raising of the Rainbow flag and Transgender flag on the courtesy flagpole at City Hall. Although Pride Month looks different this year than years prior, many events are still being hosted online to enable people to virtually come together. Pride Toronto is also celebrating its 40th anniversary since incorporation in 1981 when the first Pride Day was celebrated at Grange Park.  
Pride celebrations can ring many colours: hang a rainbow flag out your window, check-in with 2SLGBTQ+ in your lives and each other, and join virtual events.
Reclaiming Public Space through Pride & Bike
Participating in Pride and Bike Month events are great ways for equity deserving groups to gain confidence in public space and reclaim public space. Getting involved in Pride and Bike Month are important ways for people to gain visibility in public space, helping create a safer and more inclusive public realm for everyone. Ultimately, for many people even being visibly 2SLGBTQ+ or biking in public space are radical acts.  
Dating back to the Agoras of Ancient Greece, public spaces have long been used for demonstrations and protests. While Pride has obvious roots in protest, biking itself is considered a protest against a car-dominated society and can help equity deserving groups reclaim mobility, freedom, and independence in space. Just as the 2SLGBTQ+ have been important allies in many protest movements, bicycles have played an important role in protests across history. Recently, bikes were used in the front lines of Black Lives Matter (BLM) protests to create a barrier and shield protestors from the police. BLM advocates also used bikes to lead marches, direct march routes and manage traffic. During protests in Brooklyn, police targeted cyclists and confiscated bicycles, which can be considered a direct attack against the power granted by bicycles.  
During Pride Month and Bike Month, various events are held to mark the visibility of 2SLGBTQ+ cyclists. These programs help to make space on the streets for all folks to feel safe in their rides. Check some of the events out listed here if you want to get involved! 
By reflecting on the importance of Pride and biking, the need for safe, equitable and gender-inclusive active transportation is clear. It is easy to say simply hop on a bike, and help reclaim public space, but people experience cycling in Toronto differently depending on their positionality, yet Vision Zero, an initiative to keep all road users safe has not adopted an equity perspective. As Sabat Ismail states in Incomplete Streets, Incomplete Imaginations, it is not enough for the Vision Zero initiative to add additional enforcement to public spaces to encourage better driving behaviour to protect walkers and cyclists. Vision Zero was created in largely homogenous Northern Europe and has failed to adapt to the diversity of Toronto in its application to our policies and practices. As Tamika Butler says, "Vision Zero cannot succeed in a vacuum devoid of context" especially when the urban design of our city is not neutral. 
To conclude by saying get out on your bike this month and celebrate Pride is to disregard how you, dear reader, experience and are perceived in public space. Instead, we conclude by encouraging you to be critical about how urban design impacts your daily lives, and to demand for better. Consider reading Jay Pitter's An Open Call to Courage and donating to groups on the ground, trying to make Toronto a better, safer place: Scarborough Cycles, BikePOC, The Bike Bridgade, Cycle Toronto, Pride Toronto, The Get Real Movement, Black Coalition for AIDS Prevention, The 519.