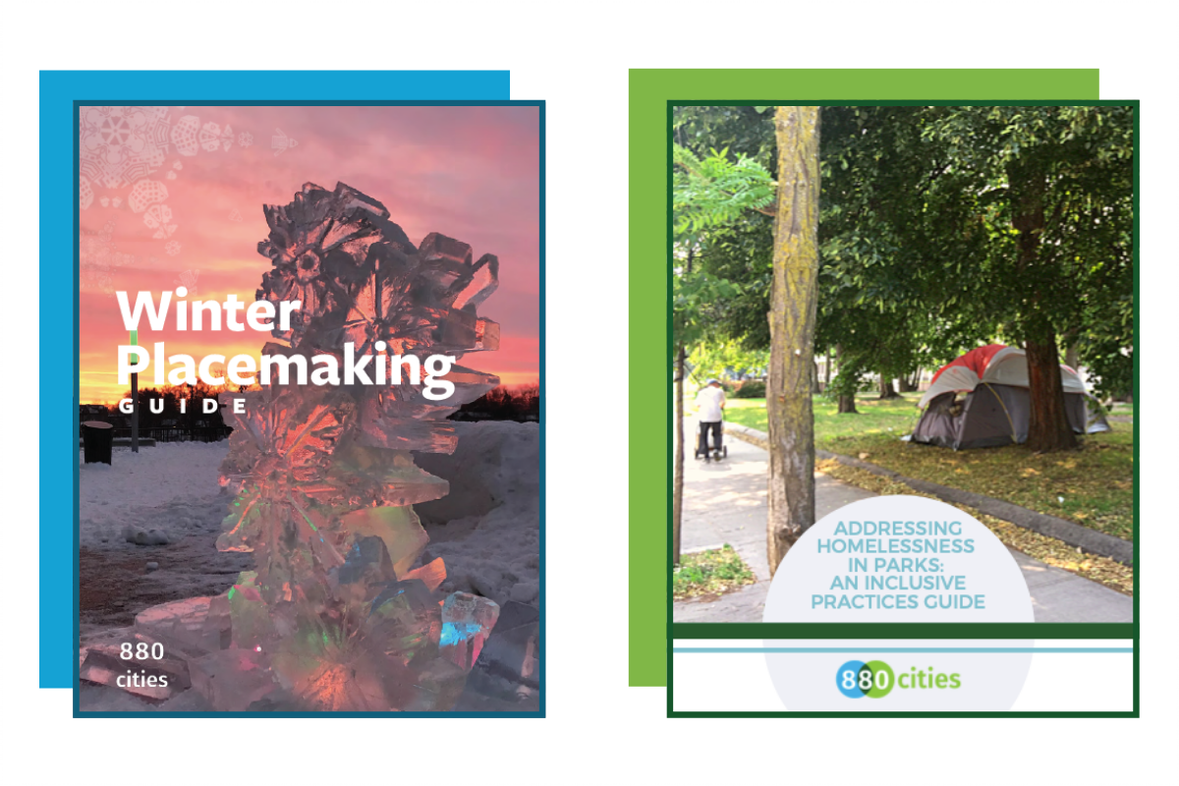 28 Sep

A Dual Release of Winter Placemaking and Addressing Homelessness in Parks Guides

8 80 Cities is excited to launch two special guides focused on creating more inclusive and healthy year-round public spaces: Winter Placemaking Guide and Addressing Homelessness in Parks: An Inclusive Practices Guide with the support of our amazing partner AARP, building off the collaboration from the creation of our Creating Parks and Public Spaces for All Ages Guide which launched in 2018.

Through key informant interviews with a diverse set of advocates and experts,  Addressing Homelessness in Parks challenges misconceptions of people experiencing homelessness and highlights promising approaches to parks management that prioritizes inclusive design and public policy based on human rights. This guide further outlines the complex factors that perpetuate homelessness and seeks to shift the narrative on homelessness by acknowledging that is a symptom of deep-rooted inequities and systemic injustices and approaching its challenges through a holistic and compassionate lens. The hope for this guide is to equip readers with compelling evidence, research, and resources that can be used to strengthen equitable parks and public space investment, management, and advocacy.
Addressing Homelessness in Parks: An Inclusive Practices Guide states that "as cities and communities turn toward recovery from COVID-19, our parks and public spaces must embody a renewed commitment to creating healthy places where everyone belongs." This ideal is also embraced by the Winter Placemaking Guide that showcases how communities of all sizes can activate parks and public spaces during the coldest seasons of the year.  
By embracing Asset-Based Community Development, the Winter Placemaking Guide shows that communities, regardless of resources or size, have the means and ability to activate public spaces in creative ways to make winter a more engaging and warmer experience for all. This guide highlights winter placemaking initiatives in small and rural communities that have embraced the Lighter, Quicker, Cheaper movement, proving that LQC is not limited to summer or larger cities. The Winter Placemaking Guide provides examples from communities across North America that have embraced their assets and have made winter a positive experience for people of all ages, abilities and socio-economic backgrounds. 
Creating inclusive cities begins with improving the living conditions for the most vulnerable in all seasons. Thank you to our partner AARP for the opportunity to create the Addressing Homelessness in Parks: An Inclusive Practices Guide and the Winter Placemaking Guide. Read, share, spread the word! 
Is your organization interested in training and capacity building on these guides?  
Please contact us at info@880cities.org for more information!