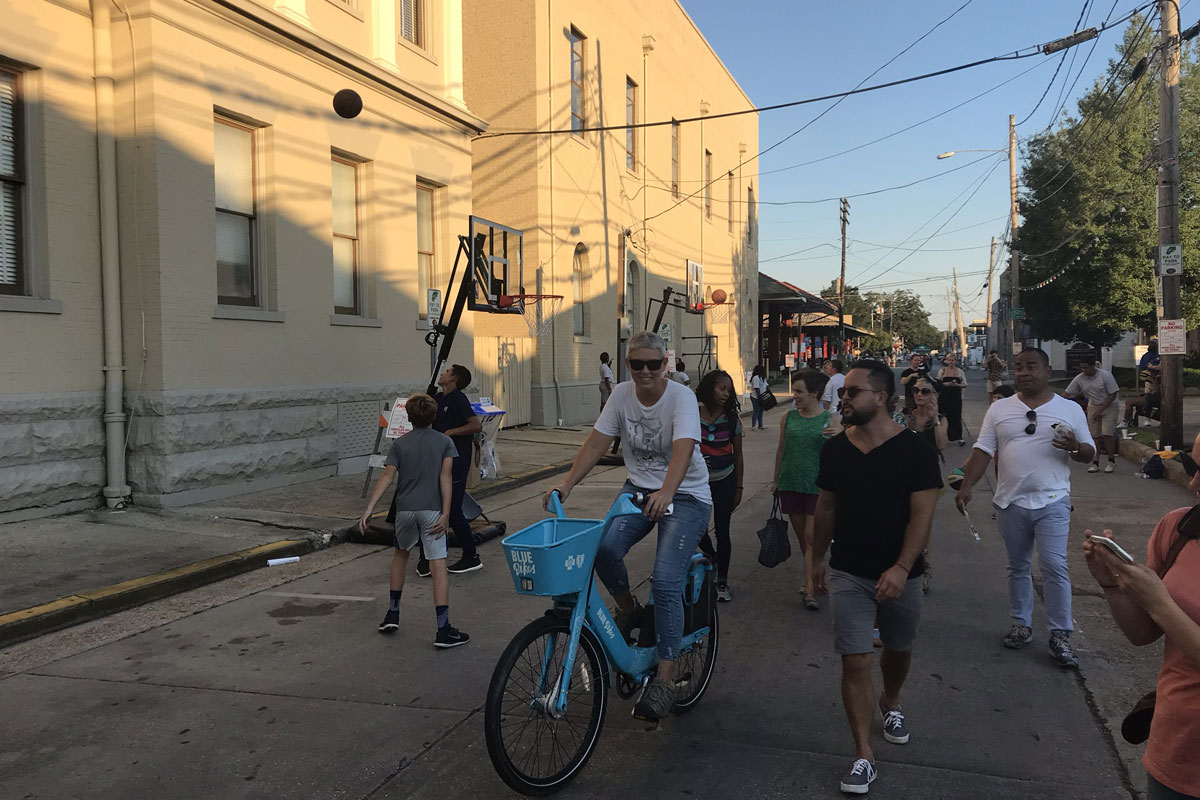 26 Oct

An Open Streets Family Reunion: Reflections from the 2018 Open Streets Summit

Recently we wrote about open streets being a labour of love. That being the case, the 2018 Open Streets Summit in New Orleans felt like a family reunion of sorts. It was rejuvenating to see old and new friends who share our passion for open streets and are working tirelessly to create healthier, happier, and more connected communities across the world. The event, which took place on September 15-16, brought together more than 50 leaders who currently organize open streets programs or are interested in bringing the simple but powerful concept to their community.

The Summit was hosted by the Open Streets Project, a partnership between 8 80 Cities and Street Plans Collaborative, with support from the Walk Bike Places conference and Project for Public Spaces.

This event provided a rare opportunity for these community leaders to share stories and knowledge, and to brainstorm solutions to common logistic and policy challenges. Participants represented nearly 40 cities – both big and small – across three countries, and each contributed their unique and diverse perspectives to productive conversations about the future of open streets.
The Summit began on a Saturday morning as we toured New Orleans' inaugural open streets program, which was organized by the City of New Orleans to coincide with the Summit and Walk Bike Places conference. In the afternoon, the group travelled across the Mississippi River to the city of Gretna to experience an evening open streets program in Gretna's historic downtown. As the sun set on the Mississippi, hundreds of Gretna residents (and Summit participants) flooded onto the streets to walk, dance, eat, enjoy live music, or play basketball, cornhole, and pickleball. The tours provided a behind-the-scenes perspective of how to organize and host open streets programs that reflect the unique size and culture of their communities.
The following day we enjoyed the air-conditioned indoors for a series of presentations and workshops led by open streets leaders and practitioners. Each presenter shared valuable lessons and tips based on their experience. Our impressive roster of speakers included:
The Summit concluded with a series of workshop activities led by Street Plans and 8 80 Cities. Participants worked together to address common open streets challenges such as funding and permitting, and developed strategies to improve core components of open streets programs such as programming, route selection, marketing, and team recruitment.
We left the Summit knowing that North America's open streets movement is in very good hands. We look forward to supporting the expansion of open streets, and we look forward to hearing about its growing impact at the next Open Streets Summit.